Seeking Shelter will inspire people in their own communities by sharing the story of William Stringfellow, Daniel Berrigan, and Block Island — a witness of faith, place, and resistance.
— Seeking Shelter mission statement
On Feb. 4, 2019, the traveling exhibition Seeking Shelter: A Story of Faith, Place and Resistance opened at Boston College's Theology and Ministry Library. It was Seeking Shelter's eighth venue in 18 months, and its third Catholic university host.
The crowded opening reception featured keynote remarks by Mark S. Massa, S.J., and Rev. Gardiner Shattuck about the story's key figures, Daniel Berrigan, a Catholic priest, and William Stringfellow, a civil rights lawyer and lay Protestant theologian.
This story started in 2013, when Ann Tickner, a distinguished scholar and feminist, was introducing friends to Block Island — an idyllic island just south of mainland Rhode Island. In the 1970s, she told them, the isolated, bucolic island "was less discovered." The small population included a number of peace and social justice activists, one of whom was sometimes Daniel Berrigan. Ann met him by chance when she climbed a cliff and found him sitting there, gazing at the ocean. Berrigan, she said, was, in August 1970, arrested by the FBI at Stringfellow's Block Island home, Eschaton, for his role in the Catonsville 9 act of resistance, in August 1970.
This conversation led Ann, an original member of what is now the Seeking Shelter Steering Committee, to enlist others in gathering Islanders' stories that had never been captured about Berrigan, Stringfellow, and Anthony Towne. Soon, the idea of a traveling exhibition and film was born and a group formed to share the story with the public.
The Journey Begins
Block Island, where our story begins, was for Berrigan and Stringfellow a sanctuary from turbulent America and their stressful lives as activists. There they could pray, study scripture, talk, enjoy nature, and, especially, write. The island's people became their community and their family.
The exhibition, which tells that story, began its journey in July 2017 at the Block Island Free Library (IFL), where Dan Berrigan's niece Frida, herself a committed social activist, spoke to a packed opening reception. For three months, the IFL offered more than a program a week, ranging from a protest sing-along led by the folk duo Atwater-Donnelly to talks by Jim Wallis, Bill Wylie-Kellerman, and Jim Reale, reading groups, and more.
Even before Seeking Shelter closed on Block Island, we dedicated ourselves to bringing it to two other Rhode Island venues, Brown University in Providence and Salve Regina, a Catholic university, in Newport.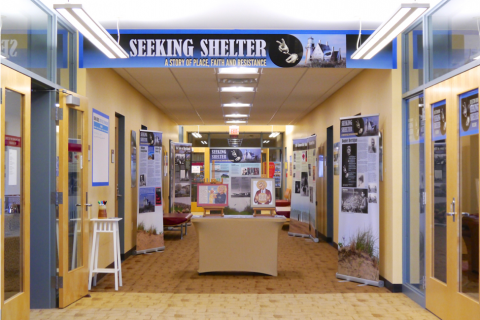 "Seeking Shelter has filled our hallway … and it will seem very empty when it's gone. It's a daily reminder of the power of peaceful resistance and is an especially important message at this moment in our country," Leigh Kendall from Brown's chaplin's office said.
Place, Faith, Resistance Resonate in 2018
IFL Director Kristen Baumann's rousing endorsement of Seeking Shelter attracted Donna Fogarty's attention; the Director of the Philomenian Library in Jamestown, R.I., engaged the exhibition, despite the already hyperactive summer the library had planned, including another exhibition, "Art in the Face of War!" Seeking Shelter's themes — community, conservation, social justice, and anti-war resistance — spoke powerfully to our Jamestown visitors. Sue Hagedorn's film also sparked a thoughtful and moving discussion.
Hale House, the summer home of Edward Everett Hale's large family, was the next venue. Its summer's program theme, "Patriotism/Protest", could hardly have been better matched to Seeking Shelter. Hale, author of "The Man Without A Country," was one of 19th-century-America's most influential writers and reformers.
The exhibit brought in many new visitors to Hale House. All of them were moved by the story of Daniel Berrigan and William Stringfellow and their social activism during the Vietnam War era. We were surprised at the number of people who knew part of the story but not the full story. They were fascinated and enlightened by the entire presentation," Deb Stallwood, administrator from the Matunuck Preservation Society said.
Each venue had its own connection to Seeking Shelter but none was more direct than that of the URI Center for Nonviolence and Peace Studies, which held an active conference while Seeking Shelter was on view. Our third and final installation of the summer was open to the general public as part of the Peace Exhibit at the URI Providence Campus in the heart of the state's capitol and largest city.
Team members who attended Seeking Shelter's electric opening at Loyola University in Chicago left exhausted and exhilarated. This was Seeking Shelter's second Catholic university and its first venture beyond Rhode Island. Students and faculty were enthusiastic in their response to the exhibition, the film, and the themes of community, the environment, and resistance.
The Witness of Seeking Shelter
With the spring 2019 installation at Boston College, the exhibition's out-of-state journey continues. The resonance and inspiration visitors find in Seeking Shelter and its themes — the role of faith in civic life, the healing power of community and place, the urgency of resistance to injustice — have intensified our commitment to spread the word and make the exhibition and film as available as possible.
Seeking Shelter, we have learned, has something of importance to contribute to the discussions Americans must have as they consider what kind of country we seek to be and how we, as individuals, citizens, and members of communities, should comport ourselves and conduct our lives. Seeking Shelter will continue its journey and its witness.
If you're interested in bringing Seeking Shelter to your organization, church, library, gallery, school, or community center, find more information here.
Got something to say about what you're reading? We value your feedback!