Ken Yellis joined the Seeking Shelter project as exhibition developer and coordinator in 2016. Other recent projects have included The Brooklyn Navy Yard: Past, Present and Future and Passages Through the Fire: Jews in the American Civil War. He was Project Coordinator for the Newport Historical Society's "The Spectacle of Toleration" and chaired the Technical Committee of the Newport World Heritage Commission. Ken has been the editor-in-chief of The Journal of Museum Education and has written for Curator, Museum, The Public Historian, America in WWII, Seaport Magazine, Discovery: The Peabody Museum Magazine, Jewish Daily Forward, ARTES, Providence Journal, and Exhibitionist, among others. He and his wife, Jo, live in Portsmouth, Rhode Island.
Posts By This Author
'Seeking Shelter' Exhibit Highlights Block Island's Activist History
08-15-2019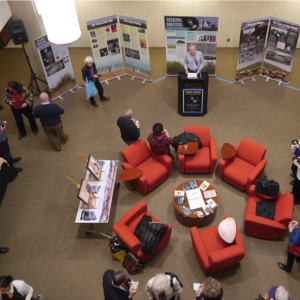 The crowded opening reception featured keynote remarks by Mark S. Massa, S.J., and Rev. Gardiner Shattuck about the story's key figures, Daniel Berrigan, a Catholic priest, and William Stringfellow, a civil rights lawyer and lay Protestant theologian.