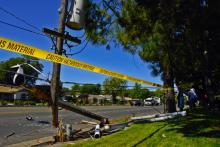 I didn't realize the promise I vowed to myself — to never to live out of step with my values, to always live with passion and bring life into the world — would be a tall order; an impossibly high standard that could turn into, "I need to do and experience everything as quickly as possible so that I don't waste time." 
Over the past 10 years, this experience developed an impulse to "hurry up" and "do more." I overextended myself in too many activities the next few years, developed an anxiety and depression disorder, and shamed myself for living in this anxious state when I "should" be living it joyfully to the full.
Through therapy and medication, I got much better, but was still lusting after experiencing everything. Time never seems to be on your side when you're living like you might die tomorrow. Life never seems long enough when you act like it will stop at the same minute as your heart, forgetting about all I've been taught about life after death.