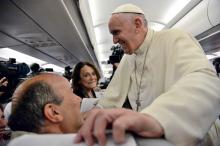 Pope Francis has decried the "filth" of online pornography and warned people against wasting time on their computers.
Speaking aboard the papal plane after his visit on June 6 to Bosnia-Herzegovina's capital of Sarajevo, the pontiff took a two-pronged approach to modern technology.
"There are two different elements here: method and content," he said, according to Vatican Radio.
"Regarding the method or way of doing things, there is one that is bad for the soul, and that is being too attached to the computer."