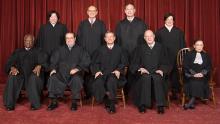 Five things to know about one of the most anticipated Supreme Court decisions of the year:
1. Corporations can't pray, but they do have religious rights.
Hobby Lobby isn't a person. It's a chain of crafts stores owned by a religious family. And though the evangelical Green family objects to parts of the Affordable Care Act's emergency contraception mandate, it's not the Greens but the company that writes the check for employees' health insurance. The first question the justices had to answer was this: Does Hobby Lobby have religious rights? To many Americans, this sounds a little nutty. Does a craft store believe in God?
A majority of the justices held that a closely held company such as Hobby Lobby does have religious rights. The court didn't apply those rights, however, to publicly held corporations, where owners' religious beliefs would be hard to discern.
But well before the justices had delivered their verdict on this question, many legal scholars said they wouldn't be surprised were they to affirm the company's religious rights. American corporations do have some of the rights and responsibilities we usually associate with people. And in the 2010Citizens United campaign finance case, the justices overturned bans on corporate political spending as a violation of freedom of speech — corporations' free speech.