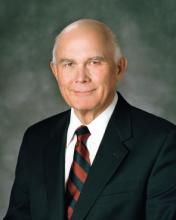 If Mormon opposition to same-sex marriage does not prevail in the United States, Mormons should respond graciously and "practice civility with our adversaries," a leading church apostle counseled Oct. 4 at the faith's General Conference.
"We should be persons of goodwill toward all," said declined to hear appeals from five states, including Utah, in which federal appeals courts had struck down bans against gay marriage. Within hours, clerks across Utah, Virginia, Indiana, Wisconsin and Oklahoma began issuing marriage certificates to gay and lesbian couples.
Oaks, who has been outspoken in defending Mormons' stance against gay marriage, said those in the 15 million-member Church of Jesus Christ of Latter-day Saints should be exemplars of civility.
"We should love all people, be good listeners, and show concern for their sincere beliefs," he said during the afternoon session of the 184th Semiannual LDS General Conference, a two-day meeting broadcast across the world via satellite, TV or the Internet. "Though we may disagree, we should not be disagreeable. Our stands and communications on controversial topics should not be contentious."