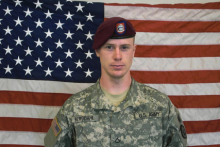 The newly freed soldier who spent nearly five years in captivity in Afghanistan has the mental and physical toughness to survive the experience, his former pastor said.
Bowe Bergdahl grew up in a conservative Christian family in Idaho, studied ballet, was home-schooled, spent time in a Buddhist monastery and finally served in a parachute infantry regiment of the Army's 25th Infantry Division.
"If there's anybody I can think of pulling through this, and doing well, it's Bowe," said Philip Proctor, who was pastor of Sovereign Redeemer Presbyterian Church in Boise, Idaho, when Bergdahl was a teenager.
"He has the mental and physical stamina not to be crushed by this experience," Proctor said.