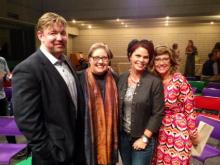 It was a gathering that would have been unthinkable just five years ago.
On a cool summer evening, in a borrowed classroom overlooking San Francisco Bay, about 150 men and women gathered to screen a short documentary about a Mormon family whose 13-year-old son came out as gay.
The Montgomerys, who accepted their son and his news, were ostracized by church members, some of whom refused to accept Communion distributed by the young man in church. Like many conservative Christian denominations, the 15 million-member Church of Jesus Christ of Latter-day Saints bans homosexual activity and considers it grounds for exclusion from Mormon rites, rituals and even the afterlife.