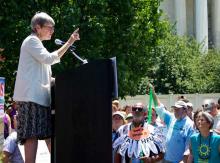 This time it's the Catholic sisters versus the Koch brothers.
That's one way to look at the upcoming "Nuns on the Bus" tour, which hits the road Sept. 17 for the third time in three years, a monthlong trip though 10 key U.S. Senate battleground states to campaign against the influence of outside money on politics.
The issue has come to be identified with the wealthy industrialist brothers Charles and David Koch, whose huge contributions to conservative political causes have raised concerns about the role of "dark money" on elections.
The spigot for such undisclosed donations, which can be made by unions as well as corporations, was opened by the controversial 2010 Citizens United Supreme Court decision. That was followed by another 5-4 ruling in April of this year, McCutcheon v. Federal Election Commission.