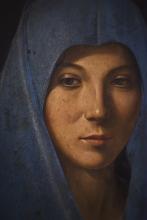 National Geographic magazine recently named Mary, the mother of Jesus, "the most powerful woman in the world" as an appraisal of her ongoing influence and popularity. But do Mary's words and example have a prayer of being heard and effecting change in this time of war?
Indeed, this is war. America has effectively been engaged in continuous warfare since the weeks after September 11, 2001. In a few decades we'll learn what happens when whole generations of people grow up and take charge of a society that has waged war their entire lives.
Attempts to tone down the descriptions we use for warfare or the way we conceptualize the present conflict don't change anything. No end is in sight. Others turn up the rhetoric: after the San Bernardino shooting, at least one presidential candidate insisted the USA now finds itself in "the next world war." Another one puffed up his chest and boasted of his resolve to "carpet bomb" people. We hear this stuff so often, we've become numb to its magnitude.