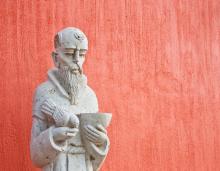 Editor's Note: The following poem by Trevor Scott Barton was written while he was living in Africa and reading The Little Flowers of St. Francis of Assisi.
Holding you in the palm of my hand
I see your tiny feet and hope you'll live and walk these stony paths
To the pump to get water.
Blessing you in your meekness and gentleness,
You are Jesus to me today.