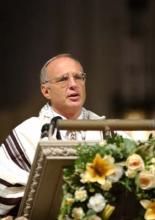 The Senate has confirmed Rabbi David Saperstein as the State Department's ambassador-at-large for international religious freedom, making him the first non-Christian to hold the job.
Saperstein, who led the Reform Jewish movement's Washington office for 40 years, focusing on social justice and religious freedom issues, was nominated by President Obama in July and confirmed by a 62-35 vote on Dec. 12.
Saperstein takes a liberal bent on domestic issues, and all but one of the votes against him came from a Republican.
"Religious freedom faces daunting and alarming challenges worldwide," Saperstein said at his confirmation hearing in September. "If confirmed, I will do everything within my abilities and influence to engage every sector of the State Department and the rest of the U.S. government to integrate religious freedom into our nation's statecraft and foreign policies."
Saperstein, named the most influential rabbi in America by Newsweek magazine in 2009, will head the State Department's Office of International Religious Freedom, where he will be tasked with monitoring religious freedom abuses around the world.