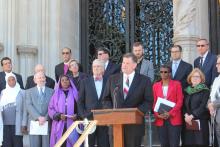 A majority of evangelical pastors consider Islam to be "spiritually evil," according to one just-released poll, but on Oct. 23 an evangelical pastor and an imam took turns talking about their friendship and mutual respect.
Texas Pastor Bob Roberts and Virginia Imam Mohamed Magid joined dozens of other religious leaders in prayer at the Washington National Cathedral before signing a pledge to denounce religious bigotry and asking elected officials and presidential candidates to join them.
"I love Muslims as much as I love Christians," said Pastor Bob Roberts, of Northwood Church in Keller, Texas, before leading a prayer at the "Beyond Tolerance" event.
"Jesus, when you get hold of us, there's nobody we don't love."