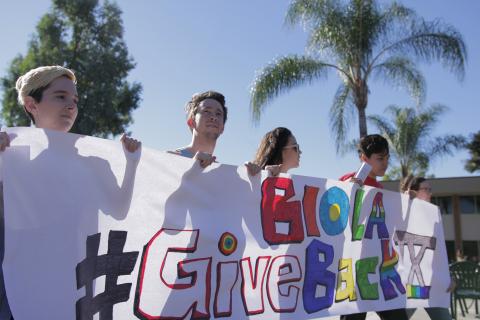 Students at Biola University and Oklahoma Baptist University assembled Feb. 9 in order to protest their colleges' requests to be exempt from Title IX requirements that prohibit discrimination on the basis of sexual orientation and gender identity.
As many as 60 Christian schools have submitted similar requests since 2014, when the Justice Department announced that Title IX protections extended to transgender students.
The protests were held in collaboration with Soulforce, an LGBTQI organization on religious campuses of higher education.
Coley Baker, a 2014 alum of Biola, which is located in La Mirada, Calif., spoke at the action.
"I didn't come out until I graduated because of social pressures at Biola as well as the greater backdrop of Evangelical Christianity," Baker said.
"Title IX exemptions make the environment of fear and rejection more tangible. Students shouldn't be afraid of being kicked out of a university that they're paying to attend due to their gender identity." Forty current and former Biola students were present at the action, where they held banners urging Biola to "give back IX."
In Shawnee, Okla., home of Oklahoma Baptist, 15 current and former students distributed literature to students notifying them of the university's request for a Title IX exemption, which the administration did not announce. Students chose not to photograph the event for fear of retaliation by administration.
"We hope that our presence on campus today will demonstrate to the administration that the student body will not stand for discrimination," Tristan Campbell, a former OBU student, said.
"We also hope that our presence helps OBU students feel represented and supported."
Organizers and supporters tweeted with the hashtag #GiveBackIX. See some of their tweets below:
How does the right to discriminate show the love of God to the LGBTQ students on @biolau campus? What message is being sent? #givebackix

— coley b (@coleyb018) February 9, 2016
Successful Demonstration this morning on @biolau campus with members of @BiolansEqualGrd @SoulforceOrg #givebackIX pic.twitter.com/Mmu3Lub7BY

— Randall White (@Randallw92) February 9, 2016
Around the US, schools like OBU are allowed to waive Title IX, letting them gut this important law and deny rights to students. #GiveBackIX

— Alicia Daniel (@alicia_daniel) February 9, 2016
Send Us a Note
Got something to say about what you're reading? We value your feedback!