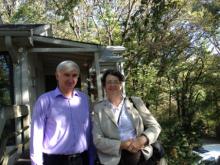 A Russian pastor whose grandfather was killed for being a Christian toured the U.S. recently, studying church ministries and providing a rare, first-person look at Russia's complex religious landscape after widespread persecution ended.
During Victor Ignatenkov's youth under the Soviet regime, Christians could meet only for worship.
No Sunday school.
No midweek Bible study.
And definitely no proselytizing.
Today, Ignatenkov, 59, said he's free to lead whatever activities he wants as pastor of the Central Baptist Church in his hometown of Smolensk — a city situated between the capitals of Russia and Ukraine — and as regional bishop for the Russian Union of Evangelical Christians-Baptist. The union is a group of evangelical Protestant churches that began emerging in Russia about 150 years ago as an alternative to the Russian Orthodox establishment.