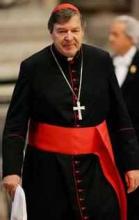 Pope Francis and his council of eight cardinals are unlikely to complete a radical shakeup of the Holy See's administration, or Curia, before 2015, the Vatican said Tuesday.
The council, which includes Australian Cardinal George Pell, head of the Vatican's new economic secretariat, has been meeting in Rome for the past two days and also received input from the Vatican's secretary of state, Cardinal Pietro Parolin.
Francis joined the council's discussions in between events on an intense appointment schedule that included an audience with King Juan Carlos of Spain after the historic double canonizations of Popes John Paul II and John XXIII on Sunday.