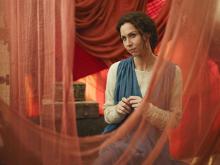 In the beginning, there was "Noah."
Coming up, there's "Exodus: Gods and Kings," an update of Cecil B. DeMille's classic for this generation.
And that's not all. On Dec. 7, Lifetime's miniseries "The Red Tent" premieres.
God is smiling on Hollywood.
The adaptation of Anita Diamant's blockbuster novel (and perennial reading group favorite) is an expansion and interpretation of the story of Dinah from the book of Genesis.
I have not seen "The Red Tent," though I have read Diamant's book. But its airing could not be more timely — the same week as Jewish congregations are reading the story of Dinah from the Torah.
There is something else that makes "The Red Tent" timely — tragically timely, in fact.