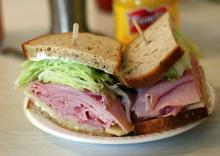 WASHINGTON — Exhibit A in the fight over President Obama's mandate for religious institutions to provide insurance coverage for contraception: a ham sandwich.
At a hearing Thursday convened by House Republicans to cast opposition to the mandate as a matter of religious liberty, Roman Catholic Bishop William E. Lori invoked the image of a kosher deli forced to sell ham sandwiches.
"The mandate generates the question whether people who believe — even if they believe in error — that pork is not good for you, should be forced by government to serve pork within their very own institutions.
"In a nation committed to religious liberty and diversity, the answer, of course, is no," said Lori, the bishop of Bridgeport, Conn., and the point man on religious liberty for the U.S. Conference of Catholic Bishops.