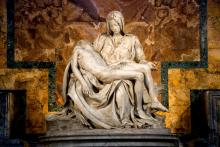 For the first time in six centuries, the head of the Catholic Church is stepping down. Some, like Huffington Post Religion's Senior Editor Paul Raushenbush, have suggested this is an indication that the stodgy religious institution is creeping its way toward modernism. Could it be that the role of Pope will be considered to be that more like a CEO than a sovereign ruler? Is there room within today's church for its leadership to step down when they feel they can no longer adequately fill the tremendous demands heaped upon them?
Can Popes retire? And if so, do they have to give up those cool red shoes?
So if, indeed, the Catholic Church is moving in a new direction, why not consider a more thorough overhaul? Some have suggested that the next Pope should come from the southern hemisphere, given that this is where the faith is growing the most (actually, it's not really growing much at all in the northern half of the world). But as some have suggested within the church, the process of selecting a Pope is not necessarily driven by creating a representative leadership.
That said, it seems a rare opportunity to do something exciting. I, like many people, assumed that the successor to Pope Benedict would have to come from within the College of Cardinals. But though this has been tradition for most of the life of the Church, Pope Clement V is a rare exception. He was plucked from a monastery to become Pope, with the hope of overcoming much of the perceived corruption within the College.
And though the College of Cardinals is not explicitly mired in scandal at the moment, the Church itself certainly has suffered some blows in the court of public opinion, as well as in the court of law, in some cases. So given that precedent, perhaps it's time for another radical departure from tradition, one that will signal to the world that the Church is more committed than ever before to its mandate to care for the poor, and support the marginalized.