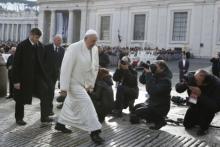 When cardinals gathered in the Sistine Chapel a year ago to choose a successor to Pope Benedict XVI, a frail 85-year-old who had become the first pope in six centuries to resign, many of them had one non-negotiable for the next pontiff: that he not be over 70 years old.
So what did the cardinals do? They elected 76-year-old Cardinal Jorge Bergoglio of Argentina — a man who had part of a lung removed in his 20s and who today "walks kind of crookedly," as a former aide once put it, because he wears orthopedic shoes to help alleviate chronic lower back pain.
All in all, though, Pope Francis, now 77, seems to be doing quite well at the one-year mark of his papacy, despite maintaining a nonstop pace of liturgies, meetings, public appearances, and hours of prayer throughout a day that starts before 5 a.m.
"He eats works, it's true," said the Rev. Antonio Spadaro, a Jesuit priest — like Francis — who conducted a book-length interview with the pope last year and knows him well.