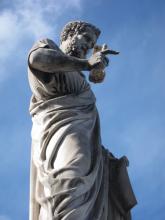 When Pope Francis canonizes Popes John XXIII and John Paul II on Sunday, Catholics across the spectrum will have reason to cheer: Liberals credit John with opening the church to the modern world in the 1960s, and conservatives hail John Paul as reasserting orthodoxy after too many innovations.
But the unprecedented double-barreled canonization also raises a question that might give both sides pause: Why is Rome making saints of almost every modern pontiff after nearly a millennium when almost no popes were canonized?
In the first 500 years of Christianity, the Apostle Peter (considered the first pope by tradition) and 47 of his 48 papal successors were viewed as saints, mainly because so many of them were martyred, which is the simplest route to canonization. Another 30 popes were named saints in the next 500 years, largely based on their reputation for sanctity.