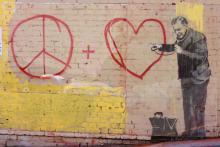 Christmas is a time for celebration, joy, and family. But Christmas is much more than a sentimental holiday.
Christmas is subversive.
The Bible doesn't tell us the specific date Jesus was born. Later Christians tradition gave us the date of December 25. It was chosen by Pope Julius around the year 350 and Christians have been celebrating Christ's birth on that day ever since.
But Pope Julius didn't just randomly pick December 25. He was deliberate. As Marcus Borg and John Dominic Crossan claim in their book The First Christmas, when Pope Julius declared December 25 as the date to celebrate Christ's birth, he integrated "it with a Roman solstice festival celebrating the 'Birthday of the Unconquered Sun.' The Roman birthday of the sun became the Christian birthday of the Son."
That last sentence isn't just a cute turn of phrase. It symbolizes the subversive quality of Christmas.