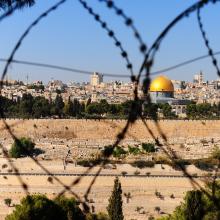 The first thing that visitors and volunteers see at the Tent of Nations just outside of Bethlehem is a large stone on which are written the words, "We refuse to be enemies." As Israeli settlements draw ever closer to their land and the Israeli Defense Forces destroy their orchards, the Nassar family continues to pay a heavy price in their practice of Jesus' teaching, "Love your enemies, do good to those who hate you, bless those who curse you, pray for those who abuse you (Luke 6:27-28)."
The Nassars refuse to divide the world into friends and enemies, challenging the rest of us to do the same.
As a Christian, I was raised to be pro-Israel. Since going to the region many times, I've become pro-Palestinian and pro-peace, too, which has led me to explore the narratives of Palestinians as well as Israelis. I grieve the deaths in both Israel and Palestine. Every human life has extraordinary value. The loss of even one life is a loss to all of us.