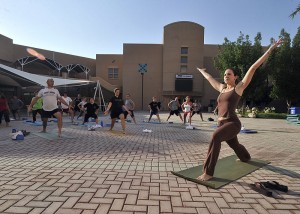 What can you learn from an Israeli Hindu-monk-in-training about peace?
As Palestine makes a bid for nationhood status at the United Nations, and Israel and the United States. do what they can to block it, I think back to May 2010, when I was observing the Jewish Sabbath with a group of yogis and a Hindu monk near the Dead Sea.
Some teachers from a small yoga center in downtown Tel Aviv invited me to accompany them and a visiting Hindu monk on a short Shabbaton at a humble retreat center overlooking the Yam Hamelech -- the Dead Sea.
For these Israeli yogis (even the monk was an Israeli national) there was little, if any, contradiction between celebrating the gifts of their Jewish heritage and adapting the beliefs and practices of a less familiar spiritual tradition. In fact, they welcomed that contradiction. And the result was a delectable 30-plus hours of prayer, song, meditation, deep spiritual reflection, and, of course, great food.
As an outsider enjoying a college semester abroad, I was surprised by how completely at home I felt in this setting. For me it was a time of peace and rest -- an experience of true Sabbath from the ever-present "political" situation (which I was discovering to be religious, historical, cultural, social, economic, interpersonal, and everything else). For the first time in months, "peace" seemed tangible, real, simple.
Sit.
Reflect.
Pray.
Find the inner peace that will inevitably reflect itself in outer peace.
Why hasn't anybody thought of this before?
Just a few days after I returned from my respite in the mountains, Israeli forces killed eight Turkish nationals and one American on a Gaza-bound aid flotilla. Protests erupted all over Israel and Palestine.
In the midst of this tragic chaos I found myself visiting my yoga center more often than usual, hoping to find another glimpse of the peace I had tasted so vividly just a few days before. Perhaps these wise, centered people could offer a perspective that would look forward to a vision of understanding, or reconciliation -- a vision too often missed by politicians, military officials, media, and even activists.
Over a meal, I brought up the incident with one of my yoga friends -- a monk-in-training -- asking, "What do you think should happen?"
"I don't know," he admitted. "I wish our troops hadn't done what they did, but I was in the army once also; I can't say for sure that I would have handled the situation differently."
I wanted to say, "What do you mean? Of course you would have! All you have to do is not kill nine people. What about yoga and meditation and Shabbat shalom, the peace of the Sabbath?"
But I stopped myself. My friend had just expressed the heart of the tension I was so eager to understand.
Several years earlier, one of those Israeli soldiers could have been him or his brother or a friend. For that reason, he couldn't pass judgment as swiftly as I had, as the rest of the world had. In a country where identity is rooted in horrific memories of the Holocaust and the uncertainty of both individual and national survival, "peace" is rarely a simple choice. It's not a simple choice for Palestinians either, whose lives are stunted by the constraints of occupation and who daily feel harassed and humiliated by Israeli soldiers.
Since returning to the United States, I have hesitated to take hard stances on issues related to Israel and Palestine. But I will always savor that weekend at the Dead Sea as a sweet reminder of the peace that could be -- a foretaste of the peace that someday will be.
Anne Marie Roderick is an editorial assistant at Sojourners.
Got something to say about what you're reading? We value your feedback!