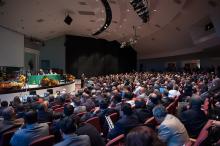 Seventh-day Adventists opted for a middle-way approach on the divisive issue of women's ordination on Oct. 14, kicking the question to next year's worldwide meeting without taking a firm stance either for or against women's ordination.
Next year's debate will come nearly 100 years after the death of Adventist matriarch Ellen White and could settle decades of disagreement over whether women should be allowed to be ordained in the 18 million-member church she co-founded.
The church's Annual Council voted to refer the matter to the 2015 General Conference Session in San Antonio. Under the proposal, regional church bodies would be able to decide whether to ordain women pastors.