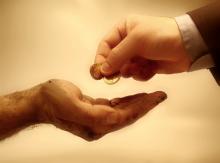 Atheists and others who don't adhere to a religion often say they can be good without God. Now, three new studies appear to back them up.
Researchers at the University of California, Berkeley conducted three experiments that show less religious people perform acts of generosity more from feelings of compassion than do more religious people. The findings were published in the current issue of the online journal Social Psychological and Personality Science.
Their results challenge traditional thinking about what drives religious people to perform acts of kindness for others.
"The main take-away from the research is that there may be very different reasons why more and less religious people behave generously, when they do," said Robb Willer, an assistant professor of sociology at Berkeley and a co-author of the studies.