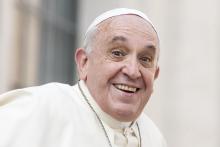 Pope Francis' visit to Mexico next month is supposed to be more of a pilgrimage than a spring break, but a viral video of the pontiff joking about tequila with a Mexican man in St. Peter's Square captures the voluble enthusiasm that is likely to greet the first Latin American pontiff.
In the video, Francis can be seen walking around St. Peter's Square, flanked by his security detail as he greets the faithful, when a man shouts from the crowd, catching the pontiff's attention.
"Pope! We'll be waiting for you in Mexico! Mexico, Pope!" the man yells above the din.
"Welcome to Mexico in February!"
"With tequila?" responds the leader of the world's 1.2 billion Catholics.