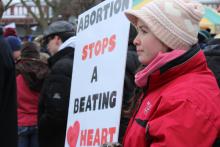 Abortion politics are never very far beneath the surface in American life, but every year around the anniversary of the Supreme Court's landmark Roe v. Wade decision, handed down Jan. 22, 1973, they take center stage.
The annual March for Life on Jan. 22 will draw more than 100,000 demonstrators to Washington. Religious conservatives will march in protest, firm in their belief that abortion should not only be considered a sin, but also a crime.
And religious liberals, though often skeptical about the morality of abortion, will affirm their belief that a decision to end a pregnancy should be left solely to a woman, her doctors, and her conscience.
In the years after Roe v. Wade, most evangelicals came alongside the Roman Catholic Church to oppose legal abortion. Mainline Protestants, at least among denominational elites, strongly advocated for abortion rights, even though mainline clergy are evenly divided on the legality of abortion and do not talk about it much.
But while conservative religious activists at the March for Life and progressive religious leaders supporting the Religious Coalition for Reproductive Choice do speak for a subset of the people they purport to represent, the absolutism of polarized activist elites betrays the more ambivalent views of rank-and-file Americans.