Annie Klingenberg is a graduate student studying journalism at Northwestern University in Washington, D.C. She reports on Congress for the Medill News Service. Follow her on Twitter @itsanniekling.
Posts By This Author
March for Life Attendees Cite Their Faith. So Do Their Opponents
01-21-2022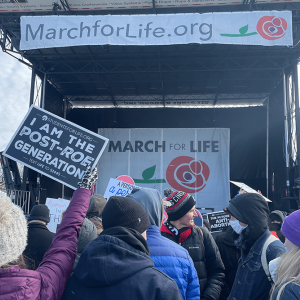 Since 1974, anti-abortion activists have gathered each January in Washington, D.C., to protest the abortion rights granted under Roe v. Wade in January of 1973. With the Supreme Court set to issue a major ruling on abortion rights later this year that could overturn the '73 ruling, attendees are hoping this will be the last annual anti-abortion march while Roe is the law of the land.