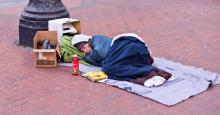 For my privileged, perhaps overly comfortable children, something as trivial as our Internet being down constitutes a crisis. When we do our "gratitude inventory" (aka, a way to get them to reflect and pray), they rattle off things as a matter of routine that many people would only dream of.
So how do I explain something as alien and complex a state as being part of the working poor in a way they can have a at least a chance to internalize?
This was part of my goal in taking on My Jesus Project, a year-long endeavor to more deeply understand what we mean when we talk about following Jesus: to move from ignorance to empathy, which can only be achieved sometimes through direct, personal experiences.
For a month, I was assigned by one of my "Jesus Mentors" to go out of my way to walk and/or take public transportation to get places, with the intention that I would come into contact with people I might otherwise miss or overlook. As I did it, I realized my kids could benefit from it as well.
The first sign that they needed such an experience was that when I announced to them we were taking the bus and train to do our family activities one weekend, they were excited. It was a new experience for them, rather than a necessity. As for the mile-long walks to get from place to place when the transit system didn't get us exactly where we were going — they were a little less thrilled with that. And yet, we slowed down more, spent more time talking, and while on the public systems, I noticed we looked each other in the eye a lot more, rather than all facing forward (with the kinds inevitably with their faces fixed on a screen) in the car.
My son, Mattias, who is on the high end of the autism spectrum, is a keen observer, and I suppose a natural byproduct of that is that he asks questions. A lot of questions.
"Dad," he said, after jumping off the final leg of the bus route one day, "why were some of the people sleeping on the bus?"