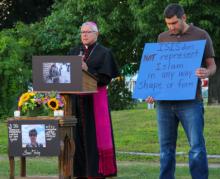 From the moment news broke that U.S. journalist James Foley had been beheaded by Islamic State extremists in the Middle East, many Christians, especially Foley's fellow Catholics, began calling him a martyr, with some even saying he should be considered a saint.
Yet that characterization has left others uneasy, and the discussion is raising larger questions about what constitutes martyrdom.
Foley's parents seemed to validate the martyrdom label when his father, John, spoke at an emotional news conference outside the family's New Hampshire home and said he and his wife "believe he was a martyr." Foley's mother, Diane, added that her son "reminds us of Jesus. Jesus was goodness, love — and Jim was becoming more and more that."
In an interview two days later with Katie Couric, Foley's younger brother, Michael, recounted how Pope Francis had called the family to console them and in their conversation "referred to Jim's act as, really, martyrdom."
Numerous commentators had already picked up on that idea, holding Foley up not only as a witness to the Christian faith but as a spur for believers in the West to take more seriously the plight of Christians in Iraq and elsewhere in the Middle East who are being persecuted to a degree that some say is comparable to genocide.
But in the Catholic Church, determining whether someone is a martyr is not so easy. Historically, two conditions must be met.