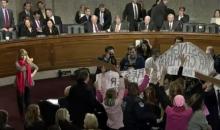 After a week here in FMC Lexington Satellite camp, a federal prison in Kentucky, I started catching up on national and international news via back issues of USA Today available in the prison library. An "In Brief" item, on p. 2A of the Jan. 30 weekend edition, caught my eye. It briefly described a protest in Washington, D.C., in which members of the antiwar group "Code Pink" interrupted a U.S. Senate Armed Services budget hearing chaired by Sen. John McCain (R-Ariz.). The protesters approached a witness table where Henry Kissinger, Madeleine Albright, and George Schulz were seated. One of their signs called Henry Kissinger a war criminal. "McCain," the article continued, "blurted out, 'Get out of here, you low-life scum.'"

At mail call, a week ago, I received Richard Clarke's novel, The Sting of the Drone, about characters involved in developing and launching drone attacks. I'm in prison for protesting drone warfare, so a kind friend ordered it for me. The author, a former "National Coordinator for Security and Counterterrorism," worked for 30 years inside the U.S. government but seems to have greater respect than some within government for concerned people outside of it. He seems also to feel some respect for people outside our borders.

He develops, I think, a fair-minded approach toward evaluating drone warfare given his acceptance that wars and assassinations are sometimes necessary. (I don't share that premise). Several characters in the novel, including members of a House Permanent Select Committee on Intelligence, criticize drone warfare, noting that in spite of high level, expensive reconnaissance, drone attacks still kill civilians, alienating people the U.S. ostensibly wants to turn away from terrorism.