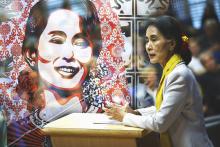 The 2014 election-year posturing forces me back to November, 2010, when a living parable walked into freedom after 15 years of house arrest. Aung San Suu Kyi, Burma/Myanmar's opposition leader, waved to her supporters and awakened our stagnant conscience.
Suu Kyi ranks among the elite of real-life parables. "I should be like them," we typically think. "Everyone should." They're the true norm. Saint Francis was one such parable. So was Gandhi. So were Mother Theresa, Nelson Mandela, and Alexsandr Solzhenitsyn. Pope Francis may be another. They shame our insipid, glitz-and-glitter leaders, whether they're overpaid CEOs or I'll-say-anything-to-get-votes candidates. They show us that politics is more than winning elections and business is more than making money.
In fact, they shame us all. We reward the attack ads. We elect the politicians and hire the CEOs. We diminish human beings to mere consumers and interest groups and file them into marketing categories. We breed our rant-and-rave culture and turn it loose.