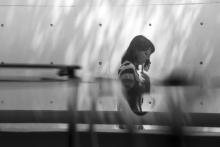 Christians often talk about actively changing the world, but too often, we just sit still and passively watch the struggles of others without participating, leading, or caring. We don't love.
Why? Because many Christians have an inability to use their imaginations.
People who can't imagine are susceptible to bigotry, racism, hatred, and violence toward others. Why? Because they can't imagine any other scenario, perspective, or opinion other than their own. They have an inability to see themselves in someone else's shoes. They can't see beyond their own narrow reality.
When you can't imagine, you can't empathize, understand, or relate with the actions, struggles, pain, suffering, persecution, and trials of others — you become apathetic, unmoved, stoic, and inactive.
Whether our differences are gender-related, age-related, race-related, culturally related, politically related, economically related, socially related, theologically related, value-related, or related to any countless number of factors, overcoming them requires imagination.
When you can't imagine, you can't celebrate, appreciate, admire, and joyfully love others. You disconnect yourself from humanity.