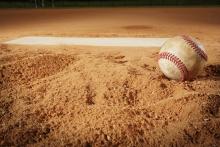 A bunch of us writers were in Florida covering spring training a few years ago. Our sports editor took us out to dinner. During the conversation, she asked if we ever found ourselves pulling for a favorite player to do well — say, in the ninth inning of a dramatic comeback.
The response was unequivocal and unanimous. No! Never! Not in the ninth inning!
By the bottom of the ninth, the story is written. Ready to be sent out as soon as the game ends. A lot of hard work has gone into those sentences. The home team had eight entire innings to take the lead. Sorry. They had their chances. Now they should just lose quietly. Don't mess up my story!
For the most part, sports writers hate dramatic comebacks. You have to hit the "delete" key on a lot of hard work. And then you frantically rewrite on deadline, which is the toughest type of writing.
Some time later, though — and this may not come until you're driving home at 3 a.m. — you let your brain throttle back from hyper drive and say: Wow, that was pretty cool. Even though it drove my typing fingers crazy.
One of the best things about sports is that there's always a chance for something grand at the end. Something that can take your prose away — and your breath away — in one unexpected moment.
Maybe that's why fans — OK, and yeah, even sports writers — revel in those incredible finishes. They remind us of the sweetly unpredictable nature of our lives. And how in each of our lives, as Anne Lamott puts it: "Grace bats last."
It's true.
I've seen that ninth-inning comeback play out many times.