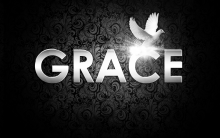 It's interesting how the word "grace" gets used a lot, even by those who don't necessarily consider themselves religious. It's a favorite name for a character that represents someone who is a gift to us — I'm thinking about Bruce's girlfriend Grace in Bruce Almighty, or Eli's reassuring encounter with a woman named Grace in the second season of the TV series Eli Stone.
You can probably cite many more examples of characters named Grace in different movies, television shows, and books.
We like to put flesh-and-blood on the notion that we are recipients of some great gift that arrives unexpectedly and is given freely. Someone or something that comes into our life and significantly changes it for the better in some ways.
But what is grace? Who is grace to us?