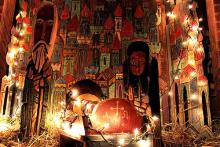 At the center of the nativity picture is that baby in the manger.
That baby Jesus will be many more things as his life, death, resurrection and eternity continues but here in the straw, and central to everything he will do and be, he is a symbol of grace.
This is what Christianity boils down to. This is it at its most naked. Shed the tragedies of Christian history, the boredom of what you've experienced in Church (how was that possible!), the legalism that has oppressed your youth or whatever else has damaged your perspective of God and you are left with this amazing concept of grace.
Put most simply, grace is the "unmerited favor" of God.