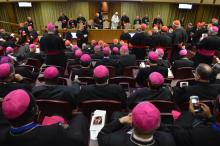 The morning prayer that starts each session of a major gathering of Catholic churchmen underway here is an important chance for the 270 cardinals and bishops from around the world to set a meditative tone for what are contentious debates about church teachings on sexuality and family life.
With Pope Francis leading the way, the prelates seated in a large Vatican lecture hall chant the traditional Latin prayers pausing near the end for a brief reflection on the day's Scripture by one of the bishops at the meeting, known as a synod.
Yet even that moment of spiritual peace is not always a sanctuary from the tensions roiling the three-week meeting that ends Oct. 25.