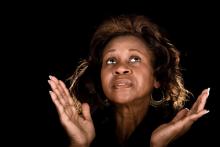 I'll preface this piece my saying I know I am making some broad generalizations based on gender, and that there are always exceptions to every trend. But despite that, I do think there are some cultural trends that can offer us some useful insight.
Anyone who has been paying attention has noticed that, of those left within the walls of most churches, the majority still hanging in there are women. Some, like the advocates of so-called Masculine Christianity, see this as a crisis. The Christian faith and its symbols are becoming softened, feminized, compromised into being something other than what they were meant to be.
Granted, when you take a faith whose principal authors historically have been men and then place that same faith in the hands of women, some things will inevitably change. Personally, I welcome the exploration of other, feminine expressions of the divine and values such as embodied spirituality that many female Christian leaders value. But aside from these assets, I think that women bring something far more critical to institutional religion.
Without them, it may cease to exist.