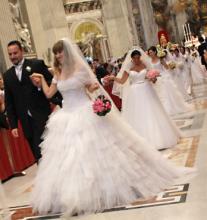 Pope Francis and his bishops got a wake-up call Oct. 7 from a Wisconsin couple who said the Catholic Church was failing to deal with the collapse of the traditional family.
Jeff and Alice Heinzen of La Crosse told the pope and 180 bishops attending a synod devoted to family issues that they were alarmed by the number of young people born out of wedlock or living with divorced parents.
The couple are one of 14 married couples invited to give their testimony.
"We have seen the number of marriages decline each year and the rate of cohabitation increase," said the Heinzens, who have been married 34 years. "We know countless divorced adults who have joined other faith communities because they do not feel welcomed in the Catholic Church."
What's more, the couple added, the church's pastoral programs were failing to address the forces impacting marriage and family life.