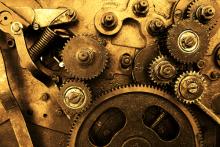 "After the first exile, there is no other."
—Rosellen Brown, The Autobiography of My Mother, 1976
The great wheel of the year has turned once more, and I find myself back at the beginning again. Not at the start of a brand new year, but rather, at the anniversary of my father's death.
I was eight years old when he died, on January 8, 1977, after six long months of decline from lung cancer. In the family's last-minute midnight scramble to the King's Daughters Hospital to offer a final farewell, I was adjudged too young and too asleep to wake up for the ride.
I found out that he had died when I crawled from bed at dawn the next morning, yawning and jonesing for cartoons, only to find a bath robed neighbor stoking the fireplace, and my father disappeared into ether.
That singular fact has been the still point of my turning world in the decades since.