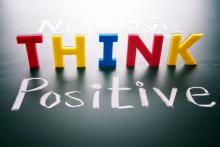 I'm a fan of TIME Magazine. It offers concise, intelligent summaries and opinions on the news that help keep me up with current events. They had an interesting article in the last few weeks about the factors that seem to affect a political party's election results in the upcoming cycle. From their findings, it's the party perceived to be most optimistic about the nation's future that tends to come out on top. A fascinating bit of psychology, if not necessarily scientifically rigorous in its conclusions.
And then, in the most recent issue, there's a pages-long piece by Bill Clinton called "The Case for Optimism," which outlined five reasons to look ahead with hope toward our collective future. Coincidence? Maybe. But the timing of the two pieces, particularly only weeks out from a presidential election, seems more than a little bit opportunistic.
Call me cynical, but never let it be said that I'm above holding the Democrats' feet to the fire when they pander. Yes, both parties do it, but it seems to me it's most effective when it's a little less in-your-face about it. President Obama rode a tide of optimism into the White House four years ago, only to watch his support erode after the reality didn't live up to the speeches in many cases. But we wanted to hear it, and it worked. So it's no surprise they're giving it another go-round.
But are there grounds for such high hopes?