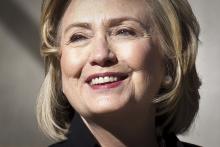 Late on a Saturday night in 2012, I received word from my sister in Mississippi that my mamma had passed away. My home was silent as my wife and two boys slept upstairs. I was reading when the sad call came.
I woke my wife to tell her; we sat on the edge of the bed and hugged. In my sadness, around midnight, I started cleaning the kitchen, likely because my mamma was always cleaning something. I also reached out to two friends.
It was within minutes that I heard back from Hillary.
Secretary Clinton joined me in my heartbreak, reminding me that she could share the pain because of the fairly recent loss of her own mother. She also told me to get to Mississippi, be with my family, and take all the time I needed — because my work in Washington paled in comparison to remembering and mourning my mom and being with family.
My family and I drove home, deeper and deeper into my Southern motherland, to bury my mom. My siblings had asked me to speak for the family at the funeral, so I rode shotgun and wrote while my wife, Karen, drove.
Along the way, drafting what I consider the most important talk of my life, I again reached out to Secretary Clinton, who was engaged in one of the most grueling and intense schedules that any secretary of state had undertaken.
Even so, she found the time to offer suggestions and talk me through this most personal task.