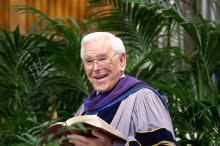 The Rev. Robert H. Schuller, the "Hour of Power" religious broadcaster, once raised $18 million to build his landmark Crystal Cathedral in Southern California's Orange County.
Yet when he was laid to rest April 20 on the grounds of the cathedral he longer controlled, his fractured family resorted to crowdfunding to cover the costs.
"Dr. and Mrs. Schuller were left financially crippled by the loss of their retirement income previously promised by the organization," Carol Schuller Milner, Schuller's daughter, wrote on the site GoFundMe.
"Living on social security for the past years, they were not able to preserve a fund that would cover arrangements for funeral and memorial tributes."
Christ Cathedral — the name the Catholic Diocese of Orange, Calif., gave the building after purchasing it in 2012 — and a private benefactor covered the funeral's basic costs, Milner wrote.
The GoFundMe appeal seeks $30,000 to establish a website, an archive of Robert Schuller's work, and a broadcast of the funeral.
"The funds we seek will help to give Dr. Schuller a lovely, albeit modest, goodbye," the appeal said.
To date, a little over $6,100 has been raised from 44 donors. Individual donations have ranged from $25 to $1,000 since the campaign's start April 11. Schuller died April 2 of esophageal cancer at the age of 88.