John Chalmers writes for Reuters.
Posts By This Author
Reuters Report on Myanmar Massacre Brings Calls for Independent Probe
02-09-2018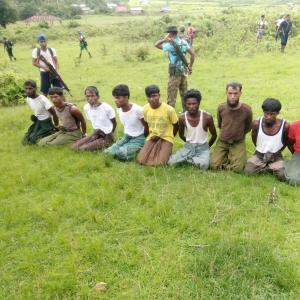 The Reuters report drew on interviews with Buddhists who confessed to torching Rohingya homes, burying bodies, and killing Muslims in what they said was a frenzy of violence triggered when Rohingya insurgents attacked security posts last August.
The account marked the first time soldiers and paramilitary police have been implicated by testimony from security personnel in arson and killings in the north of Rakhine state that the United Nations has said may amount to genocide.
Obama Prods India on Religious Freedom
01-27-2015
U.S. President Barack Obama weighed in on one of India's most sensitive topics as he wound up a visit on Jan 27, making a plea for freedom of religion to be upheld in a country with a history of strife between Hindus and minorities.
Hours before boarding a flight to Saudi Arabia, Obama warned India not to stray from its constitutional commitment to allow people to freely "profess, practice, and propagate" religion.
"India will succeed so long as it is not splintered along the lines of religious faith, as long as it is not splintered along any lines, and it is unified as one nation," he said in a townhall address to mostly young Indians.
Obama's speech, after three days in New Delhi aimed at cementing a strategic partnership, was widely interpreted as a message to Prime Minister Narendra Modi and his Hindu nationalist Bharatiya Janata Party (BJP), whose rise to power emboldened activists to declare India a nation of Hindus.