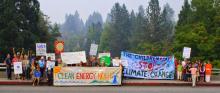 I was part of the United Methodist delegation to Rio de Janeiro in 1992 during the world's first major gathering of world leaders, nongovernmental organizations, and corporate heads to focus on climate change and related environmental and development issues. It was clear even then that environmental concerns could not be effectively addressed without simultaneously addressing poverty and inequity.
As of Nov. 30, government officials, corporate leaders, and nongovernmental organizations are meeting for the 21st session of the Conference of the Parties (COP 21) for climate negotiations, this time in Paris. World leaders and other official summit attendees will be protected by greatly enhanced security because of recent terrorist attacks. Civil society won't enjoy such protections, as indicated by the prohibition of planned demonstrations in Paris.
Some are still demonstrating in Paris, including people committed to nonviolence who formed a 10,000 person human chain and left 20,000 empty shoes — including a pair of the Pope's shoes — to represent the protestors who are not allowed to demonstrate. Still, around the world, people are gathering to pray for the success of the climate talks and for peace.