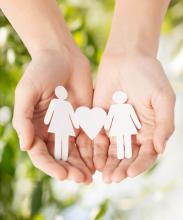 She was one of the best students I've ever had in a youth group. She's funny, smart, friendly, warm, and likeable. She exerted a quiet sense of confident leadership among her peers and she's serious about following Jesus. She's everything that a pastor would want in a member of a youth group. 
And I'll never forget the day she told our youth group that she's a lesbian. 
My God I love that girl. 
And so did our youth group. Girls and boys listened attentively as she described her experience of "coming out" to her parents, siblings, friends, and now her youth group. Like so many other young women and men, her deeply personal experience was full of joy and pain.  
"Thank you. That took a lot of courage," one girl said as she held back tears of inspiration. 
"When did you know?" Another girl asked.
"Who did you come out to first?" Another asked. 
It was a profound moment of vulnerability and acceptance. I was very proud of her and of the youth group. 
"This," I thought, "is what church is all about." 
That was years ago. Unfortunately, it still takes a lot of courage to come out of the closet. As elated as I was about that experience, today I read an article that made me continue to worry about LGBTQ kids in other churches. It's titled, "Dear Rob Bell: The Church Isn't Giving an Inch on Gay Marriage."  
Once again I begin to dread the message that awaits so many Christian kids who desperately want to come out of the closet but can't for fear of being ostracized by their church.