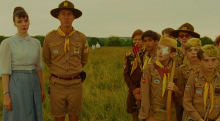 Actor and writer Dylan Marron is the creator of Every Single Word, a popular tumblr and video series dedicated to exposing the lack of racial diversity in mainstream Hollywood films.
For the series, Marron, a biracial native of Venezuela best known for his work on the cult-favorite podcast Welcome to Night Vale, chooses a well-known, recent film and edits it down to only the lines spoken by people of color. The results are damning. None of the videos in Marron's series last over a minute. Some, like Noahand Into the Woods, which feature no actors of color at all, simply cut directly to black.
Marron spoke with Sojourners about the origins of the project, the long-term effects of poor diversity representation onscreen, and systemic struggles facing people of color in the entertainment industry.