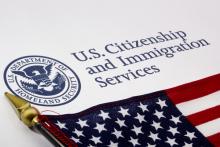 A woman who has lived legally in this country for more than 30 years was granted her request to become a naturalized United States citizen Thursday after initially being refused conscientious objector status because she is not religious.
Margaret Doughty, who came to the U.S. in 1980 from England, was informed by U.S. Citizenship and Immigration Services that unless she provided a letter from a church or a religious official by June 21 backing up her assertion that her "lifelong spiritual/religious beliefs" would prevent her from taking up arms for the U.S., her application would be denied.
Immigrants seeking citizenship must pledge to defend the U.S., unless they can prove they are conscientious objectors — people whose religious beliefs prevent them from engaging in war. Conscientious objector status has been awarded to Quakers, Buddhists, and others.