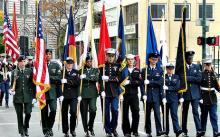 Today's veterans are suffering through the current recession. They have a higher unemployment rate are are more likely to be or become homeless than the rest of the U.S. population.
Thankfully, the Senate yesterday unanimously passed jobs for veterans legislation that should begin to help.
But other problems remain. As many as 25 percent have symptoms of post-traumatic stress disorder and suicides are rising. Forty-six-thousdand have suffered devastating physical injuries, and as many as 360,000 may have brain injuries. 
With this set of problems, the Veterans Administration doesn't have the necessary resources to meet the profound need.