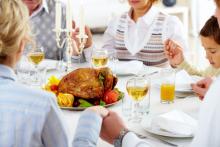 Speaking of the widow's offering, Jesus says: "Truly, I tell you, this poor widow has put in more than all those who are contributing to the treasury. For all of them have contributed out of their abundance; but she out of her poverty has put in everything she had, all she had to live on." (Mark 12:41-44)
Today, families across America will gather round tables full of food. They will hold hands and pray. They will give thanks for the blessings that have come to each member over the past year. Some of these families' tables will be covered with turkeys, stuffing, cranberry sauce, and yams; symbols of abundant blessing. Others will give thanks over Hillshire Farms sliced turkey sandwiches on Wonder bread; symbols of blessing in the midst of hard slog of poverty. Though their tables are bare, their thanks offerings are full of power. For, like the widow's offering, Jesus reveres the offerings of the poor.
This Thanksgiving, as your family holds hands and give thanks and as your church packs Thanksgiving dinner baskets, and this Christmas season churches prepare gift baskets for those Jesus called "The Least of these" (Matthew 25:40) we at Sojourners ask you to do one more thing: Take five minutes and handwrite a simple letter to your member of Congress.