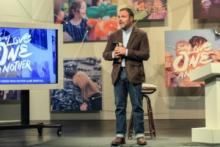 Mark Driscoll is back. Kind of.
The controversial founder of Mars Hill Church who stepped down last week offered a brief address at the Gateway Conference on Oct. 20. Initially, he and conference organizers agreed that he would not give a formal address at the conference.
But Robert Morris, pastor of Gateway Church in Dallas, said Driscoll requested to come to the conference as an attendee. "That was big of him to just come and be ministered to," Morris said.
"We could crucify him, but since someone's already been crucified for him…" he trailed off. "It's very sad that in the church, we're the only army that shoots at our wounded. And I'd like you to stop it."
Driscoll's resignation came in the wake of accusations of plagiarism, bullying and an oversized ego that alienated some of his most devoted followers.
Conference attendees gave Driscoll a standing ovation as Morris handed him the microphone.
"What do you want me to do?" Driscoll asked Morris, teasing him about the dangers of giving "a microphone to a preacher who's been gone for a while."