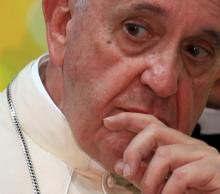 On his first full day of the visit, Francis praised U.S. bishops for their "courage" in facing the difficult moments of the explosive clergy abuse scandal "without fear of self-criticism and at the cost of mortification and great sacrifice."
Listeners, however, were shocked, mindful that the church has spent hundreds of millions in settlement payouts — often after years of protracted legal fights — to compensate for decades of bishops who protected, even promoted, abusive priests.
He sounded "tone-deaf," said Vatican expert the Rev. Thomas Reese.